What's Included
Unlimited pages with unlimited content; all of which are fully customizable.
210 Blog Articles
You have the ability to change your web site at anytime from anywhere with the easy to use site admin.
Over 10 preset pages with interchangeable content. You'll be ready for launch immediately!
Built in tools for customizing Your pages, including a fully functional graphics editor!
Instructional videos will take You step by step through the creation process.
Easily integrate YouTube Video into each page.
keyword optimization for search engines with better listing placement.
Google map will display Your business location.
.com domain name (ex. www.yourbusinessname.com).
Links to FaceBook, Twitter, MySpace & more!
---
Features
In the time it takes you to sign up for the Standard site, you will have a fully functional and staggeringly effective real estate web presence up and running! Your name, photo and contact information is integrated automatically into all site content. Here's a partial list of features:
Add additional information, (YouTube video, extra images/photos, extra comments), for any of your featured properties
Add unlimited, custom content
---
Pages include:
Home
Featured Properties

Single-Family Residential
Condos/Townhouse/Lofts
Multiple Family
Rental
Land/Lots/Farms
Vertical/High-Rise
Commercial
Auction

Search Properties
Foreclosures

Single-Family Residential
Condos/Townhouse/Lofts
Multiple Family
Rental
Land/Lots/Farms
Vertical/High-Rise
Commercial
Auction

Short Sale

Single-Family Residential
Condos/Townhouse/Lofts
Multiple Family
Rental
Land/Lots/Farms
Vertical/High-Rise
Commercial
Auction

Blog
Open Houses
Our Agents
Testimonials
Local Area Information
Mortgage Calculator
Mortgage Calculator Pro
Location Map
Contact Us
---
Blog Articles:
IDX Search

Every property listing in your state marketing area literally becomes a part of your website. Having every MLS listing searchable from your site will give you an advantage over other realtors by way of higher ranking on the search engines. Each property listing will have your information, with your image. You become the agent to contact for every MLS search conducted on your site.
---
About
Easily and quickly update your profile
Customer testimonials automatically assimilated
---
Communities
Neighborhood profiles provided by Google Communities!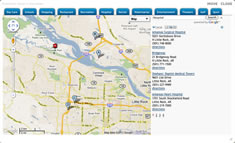 ---
Properties
Support for commercial properties for sale or lease
Add virtual tours
Add PDF documents
Request an appointment to view property
Add open house info
Slide show photo layout
Loan and amortization calculators
Email listing to a friend
Mapping by Google
---
Internet Marketing
APP

This is an exclusive App for Responsive Real Estate clients. The App provides real-time updates of your featured properties. When you submit your properties to the MLS, your FaceBook account will be instantly and automatically updated for you!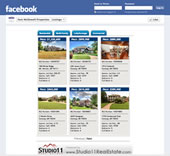 Visit Site
Google Analytics
Update Meta Tags for key web pages
Facebook
MySpace
Google
Twitter
Favorites
---
Photo Galleries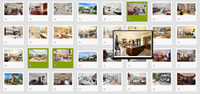 Bring your website to life with bold image galleries that capture the imagination. Whether your website is for business or pleasure, it couldn't be simpler to add, crop, rotate and resize your images to create a stunning gallery without ever leaving the online website builder.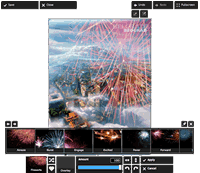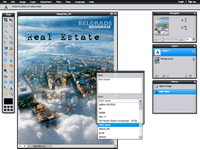 ---
XML sitemap setup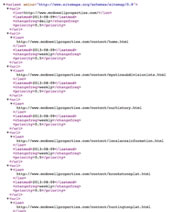 A sitemap is a file where you can list the web pages of your site to tell Google and other search engines about the organization of your site content. Search engine web crawlers like Googlebot read this file to more intelligently crawl your site.
Drag & Drop Builder
It's easy to make your site look just the way you want it to with drag-and-drop modules that can be easily added and re-arranged.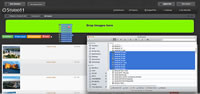 Theme Customization
Personalization doesn't stop when you choose a theme. Adjust the colors, fonts, background and more to make it your own.
Contact Forms
Giving visitors a simple way to contact you from your site is great for everyone. You can view all your contacts in one place.
Design Features
Free Updates
Responsive Layout
Retina Ready
Unique Elements
Fast Performance
HTML5 & CSS3 Development
Bootstrap 3.3
BG Batterns
Compatible With Major Modern Browsers
Revolution Slider
Touch Swipe Support
Exclusive Style Switcher
Functional Contact Form
Portfolio
Blog
Sticky Menu
Flexible Widgets
Many Footer Layouts
Contact Pages
Dark & Light Scheme
FullScreen Slider
Scroll Animation
Vector Maps
Responsive Carousels
SEO Optimized
Unlimited Colors
Social Media
Google Fonts
Font-Awesome (Font Icons)
Icomoon (Font Icons)
Parallax Effect
Many More ...
Admin Tools
Quick Links

page admin
this is where you can manage all the pages and content of your website

blog admin
this is where you manage all the blogs on your website

messages
this is where you manage all the messages that are sent through your site

events
this is an events calendar
---

testimonials
this is where you can manage all your testimonials

members
this is where you manage all your vip signups
Property Admin

property map
this is where you adjust google map for any of your properties

open house
this is where you set up open house appointments

extra info
this is where you can add any extra information beyond your local idx including videos

extra category
you can group your properties by category, like lake front or sub division
---

extra featured
you can add other realtors properties as your own featured listings
home featured
you can use this tab to feature properties on your home page

link maker
this is used to create a one click search for your website visitors

agents
this is where you can manage all your agents
Images/Files Admin

my images
you can upload all your images that you will use on your website

my files
you can upload all the files that you need for your website

agent images
you can upload all your agents profile pictures

edit site header
you can add or edit images on the top of your website
---

top image
this is to manage slider images on your homepage

photo gallery
upload images here to create a photo gallery on your site
Customization

site design
this is where you can select predesigned layouts and colors for your website

design setup
after you have selected the site design, you can modify the background and colors

header
the header is already preset, but with this link you can replace the content with your own

footer
the footer is already preset, but with this link you can replace the content with your own
---

top image
this is to manage slider images on your homepage
jquery ui
select jquery ui color theme

header setup
you can change the colors, fonts and text size

footer setup
you can change the colors, fonts and text size
---

colors
manage all the colors on your website

background
you can change your website background from a selection of over 1200 license free images
tiles
you can change your website background using tiles

Patterns
you can change your website background using Patterns
Site Setup

Site Information
this is where you setup your key words and google analytics

Site Share
this is where you set up your social media

Site Setup
this is where you can set up your favorite icon, top logo, qr code and more

Offices Setup
this is where you can set up your agencies multiple offices